Hotel Illawarra
Hotel Illawarra have a variety of bars to cater to your every need, each offering a different unique atmosphere. The sleek and modern furnishings of Hotel Illawarra create both a comfortable and welcoming venue. From the luxurious sofas through to the water feature in the courtyard, every detail has been planned to perfection.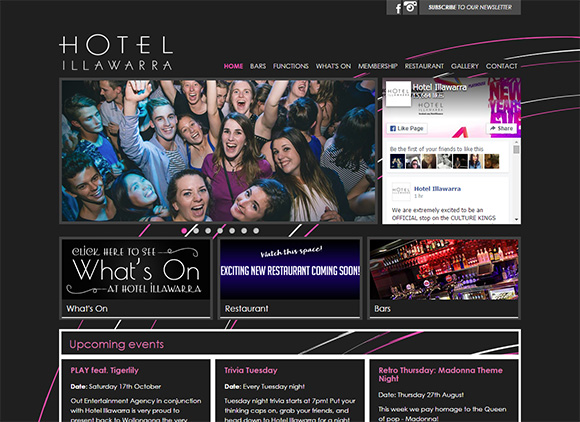 Challenge
Hotel Illawarra required a website which allowed them to update their event and venue information for patrons. Their previous website was flash based so did not support many browsers, and was not mobile-friendly, so was not accessible for almost half of their web traffic. Hotel Illawarra also required a revamp of their email marketing system.
Solution
Prior to the web re-design, Cast-Control conducted traffic analysis to deduct that over 40% of Hotel Illawarra's website traffic was from a mobile device, which meant they could not access any of the web content. Cast-Control redesigned their website to allow for customers to easily navigate between event information. Cast-Control created a custom designed Joomla website which allows the Hotel Illawarra marketing staff to easily update event information and photo galleries daily.
Features