Is your website really 'search engine optimised'?
We often work with customers who have spent thousands of dollars trying to rank their website to a good position only to end up exhausted with the processes and frustrated at the SEO company pushing them to spend more. In many of these cases we are able to identify with some very basic practices that have been entirely overlooked, and help the customer with achieving their marketing goals.
This short series is aimed at identifying basic practices that can be easily implemented into a WordPress based website. Part one focuses on the core SEO infrastructure and Part two will be aimed at converting visitors into leads.
Setting up the right infrastructure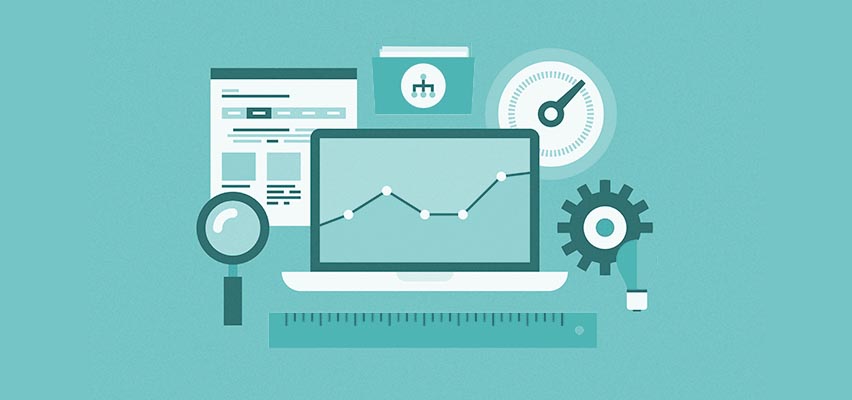 The very first step we take with a website is to make sure they have a decent infrastructure in place, a platform that provides all the basic SEO requirements and tools to integrate with external Search Engine & Social Platforms. For this our team prefer Yoast SEO for WordPress websites as it handles the insertion of advanced meta tags, bread crumbs, canonical URLs and social media tags, such as linking featured images to articles for Facebook. It also generates an XML sitemap for search engines.
Once we have this infrastructure in place, we will ensure that Google Analytics, Google Search Console (previously Google Webmaster Tools) and Google Places are configured.
Login to your WordPress website as admin, once logged in you will be in your 'dashboard'.
Hover over the Plugins menu on the left screen and click on Add New.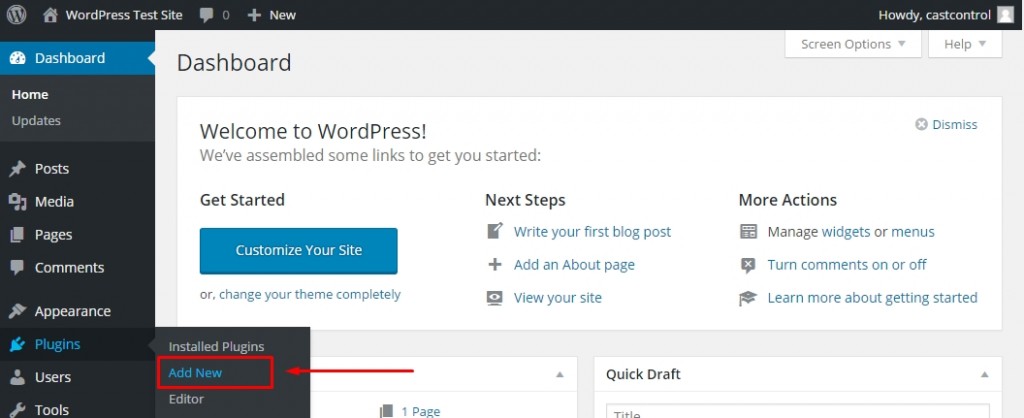 In the keyword seach enter Yoast SEO as shown below then press enter. When you see 'Yoast SEO' plugin press Install Now.

Once the installation is completed you will need to Activate Plugin.

Now that the plugin is installed, navigate to the SEO tab in WordPress Admin then select General. Once the page has loaded select the Company Info tab and fill out this information. This information clearly identifies with google your organisations name and will assist with connecting your Google Places listing with your website.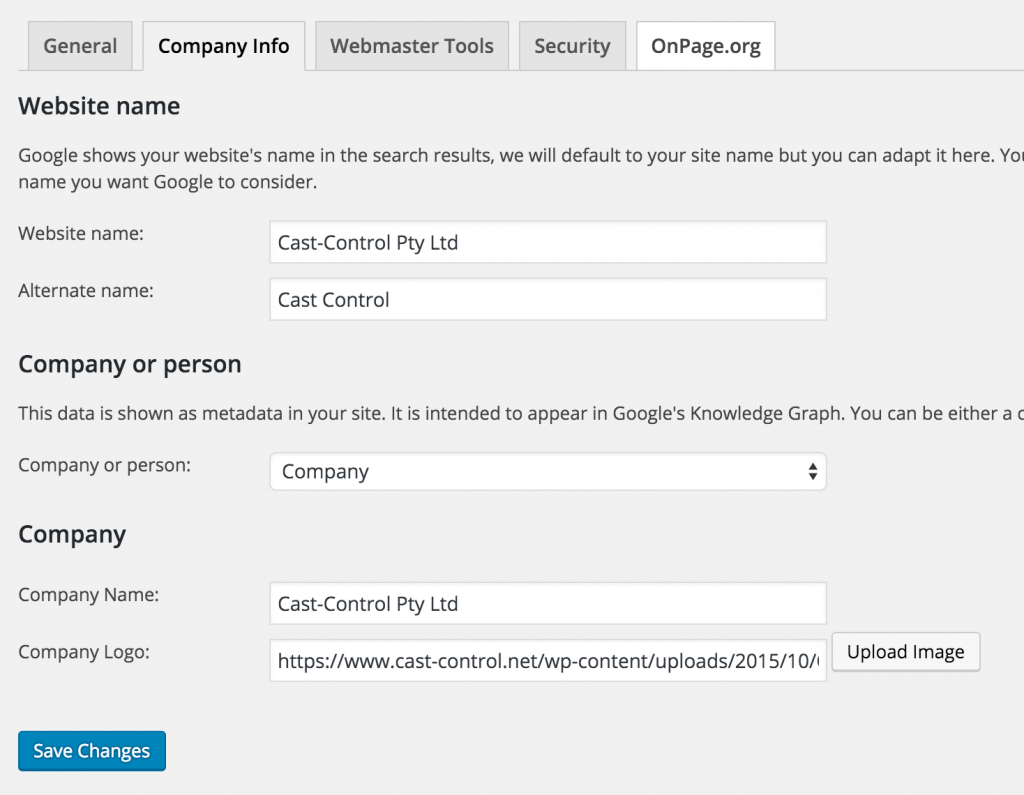 Yoast SEO provides the ability to associate your website with various social platforms. The great thing about this plugin is that it also allows us to configure default display preferences for links posted to social platforms such as the default image used when posting to Facebook (You can also configure per-page/post images).
Navigate to the SEO -> Social tab to configure our Social Media elements.
Copy and paste the links to each social platform that you are currently using, as shown below then navigate through each tab and configure defaults for each platform.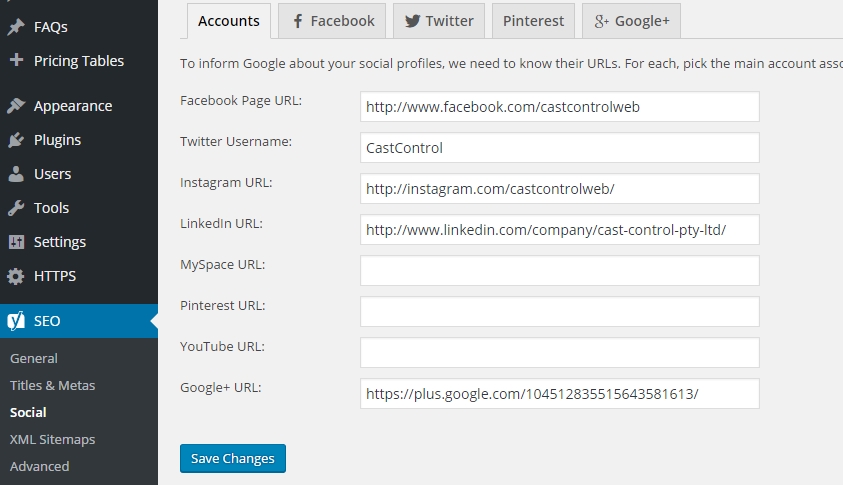 Google Integration
Google provides a great suite of tools to assist with analysing traffic, your websites ranking and finding businesses online. Integrating these services does more than provide us with valuable information, it is basically tapping Google on the shoulder and telling them a) that you exist and b) what your purpose on the internet is.
Google Analytics is a tool used to tracks and report website traffic and is the most widely used analytics platform available online. This tool allows us to gauge visitors to your website as a whole and provides phenomenal information about your visitors and their activities.
When it comes to integration with your website, there are dozens of plugins which help you. We like to use the plugin called Google Analytics Dashboard for WP as a stable and safe plugin.
Signup for Google Analytics
. You can sign in with an existing Google account or if you do not have a Google account you can
create your Google account
 first.
You will now be presented with the new analytics account screen. Fill out the details most relevant to you and your website.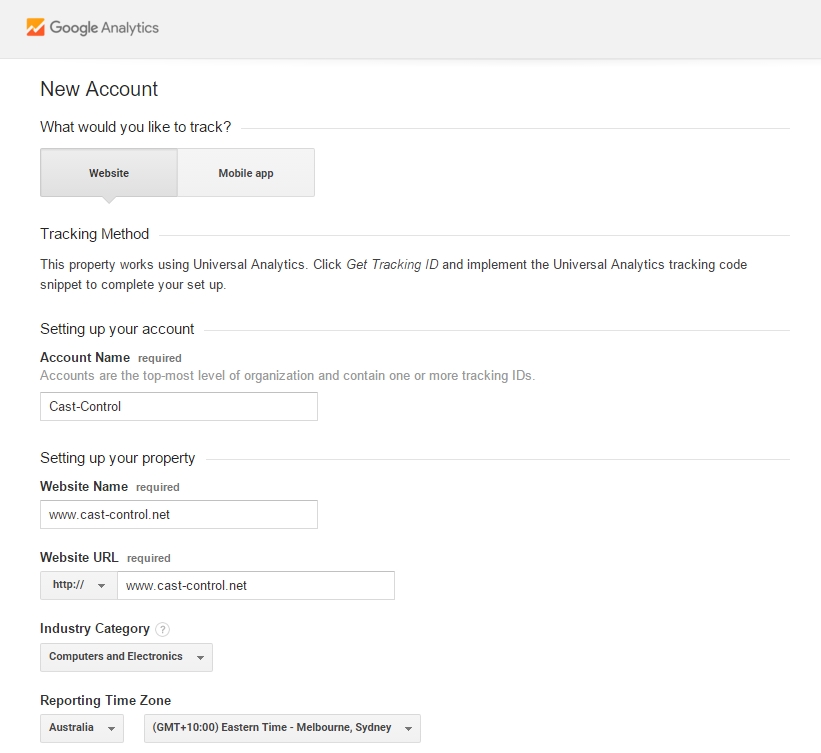 Once you have entered all your details scroll down and press Get Tracking ID


Once you see a page similar to the following then you have successfully setup a Google Analytics Account for your website. Don't worry about all the information on this page yet, as the next section Integrating Google Analytics into your website covers this.
Firstly we will need to install and configure a plugin that will automatically include the code on your website to integrate Google Analytics.
Navigate to Plugins -> Add Plugins and search for Google Analytics Dashboard for WP then press Install.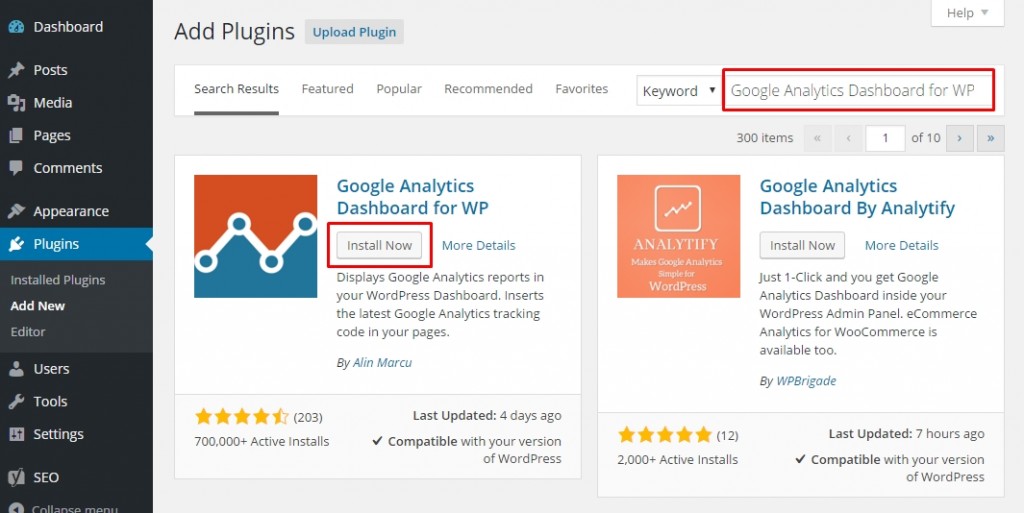 Once installed, Activate the plugin.


Now navigate to Google Analytics (in the WP Admin Side Menu) and click on General Settings.
Click on Authorize Plugin button


Now press the Get Access Code to login to Google and generate an access token to connect your WP to Google Analytics plugin.
Once you complete this process you will receive your access token so copy the token, paste into the WordPress Plugin and press Save Access Code.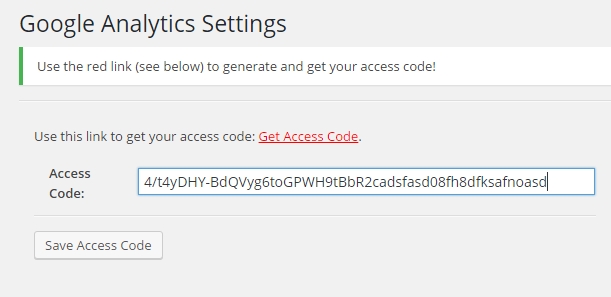 If all went well, you should now see your website address automatically selected. If it is not selected, do so from the dropdown menu and press Save Changes.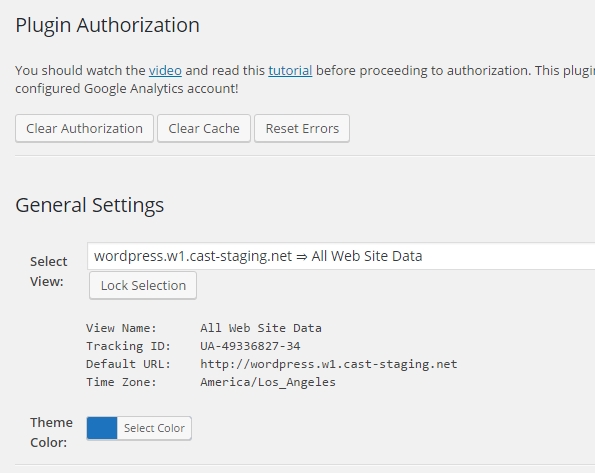 Google Search Console
Search Console provides a suite of tools to track the performance and health aspects of your website. If there is a critical problem that affects the listing of your website, Search Console will notify you. If there is a broken link on your website, you will find it here.
Head on over to
Google Search Console
 and login to your Google account.
Once logged in, you will be presented with the welcome page and a form to add a new Property. Enter your full website address including http:// and press ADD PROPERTY. 

You will now need to verify your ownership, as we have already configured Google Analytics under the same Google account the easiest method to verify is to click on Alternate methods and select Google Analytics (then Verify button).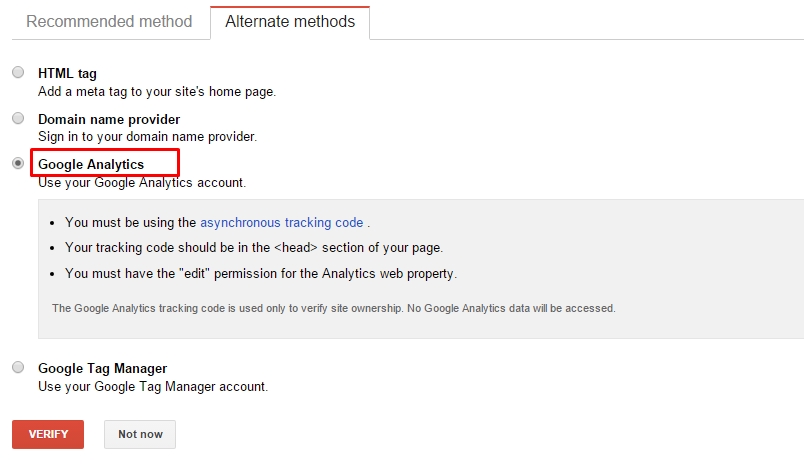 If all went well, you should see the following screen.


Now click continue and you will be shown the Search Console dashboard for your website. Search Console should now be configured, the next step is to Submit an XML Sitemap.
One of the more important tasks is to publish a site map to Google Search Console so that it understands the content on your website and is informed of changes to your website content and pages.
As of writing this, there is currently a bug in Yoast SEO where the sitemap is not generated until you disable and reenable the Sitemap functionality so that is the first task we will complete.
Login to WordPress admin dashboard then select SEO -> XML Sitemaps.
On this page, Uncheck the checkbox at the top which enables Sitemap functionality and press Save Changes. 

Once you see "Settings saved.", recheck the box and press Save Changes.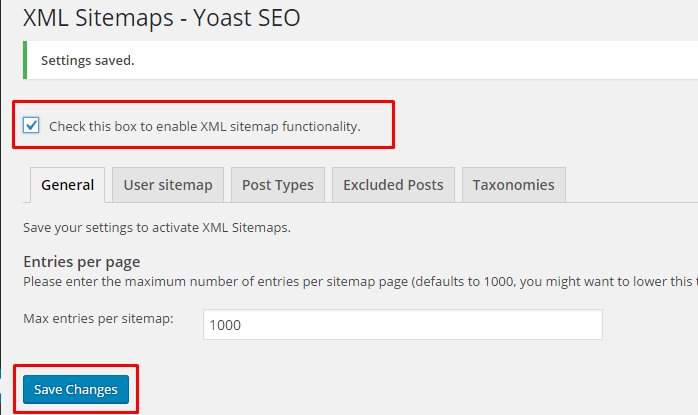 Now press the XML Sitemap button.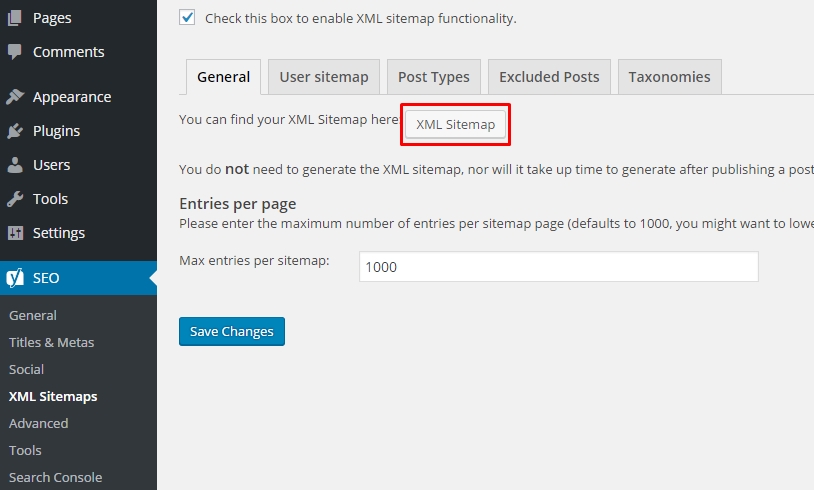 This should take you to your sitemap as displayed below, if you see something similar to the following then you have successfully generated the sitemap.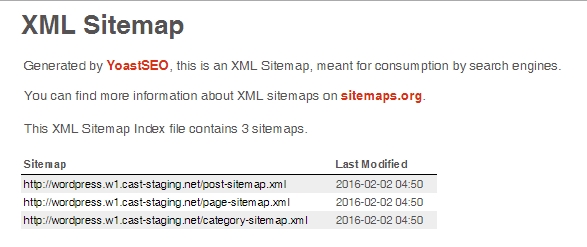 Now let's go back to Google Search Console and select the website.
Open Crawl -> Sitemaps then press ADD/TEST SITEMAP which should open a new Dialog. Type in sitemap_index.xml then press Submit.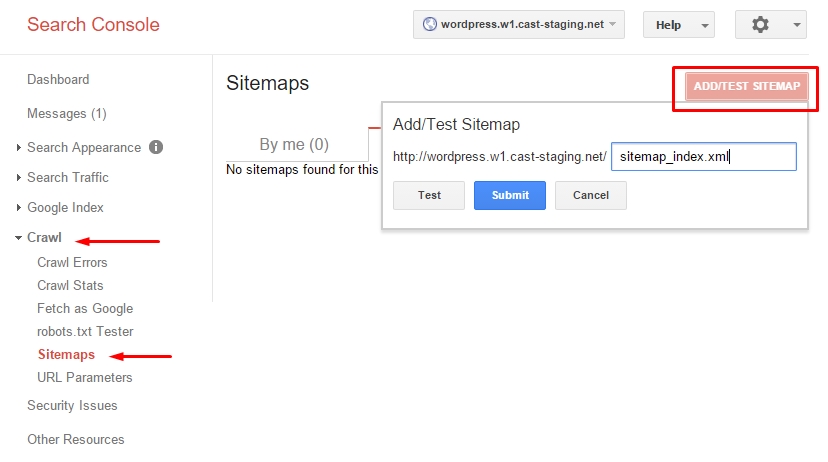 Once the page is refreshed you should see a screen similar to the below, if you do then your sitemap is now successfully submitted to Google Search Console.

Google Places is one of the most powerful (and free) business directories online. Simply being listed on Google Places has brought our customers very notable increases in hits to their website and leads to their business.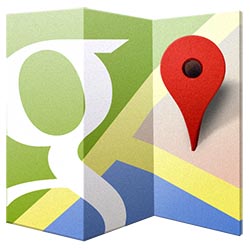 Head on over to 
Google Business
and hit the 
Get on Google 
button. Once the map loads, enter your business name then select 
Add your business. 
Once you complete the signup form you will need to verify your listing by phone or postcard. Tip, enter your phone number correctly and complete verification by phone to secure your listing fast.
After adding your business, we recommend updating your listing with your opening hours.